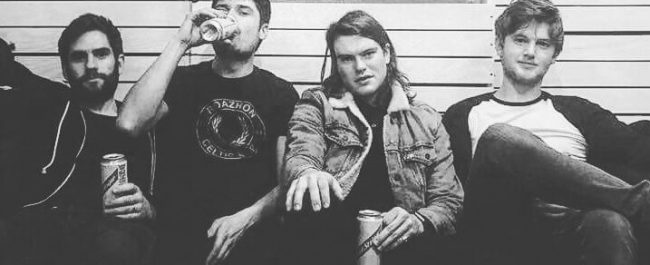 We caught up with Soundmates ahead of our Paris show!
The Black Roses, a 4 piece London based band, are playing on March 30th at Le Truskel in Paris and we can't wait to see them live. Soundmates recently interviewed The Black Roses about their music and future projects for the band.
The band has opened a new chapter with the release of their first EP 'Utopia' and the single 'Heaven'. These tracks are made of catchy riffs and sweet melodies. With poetic lyrics and high energy, their songs discuss their ideal world : a world of love, romance, lust and whiskey.
The group was formed after drummer Mike Goodfellow and lead singer Anthony Stevenson met one another at Glastonbury festival 2015. Earlier formations of the band had already started when Anthony and bassist Valentin Pean started writing songs the previous year. With the addition of guitarist Richard Jones things are picking up with great momentum.
With the bands' constant will to write new material and with endless inspiration, the 4 piece are now playing a stronger, longer set amongst bigger venues and festivals. The boys are now hopeful to spread their music outside of London and explore cities all around England and Europe, and they're already looking into working on their next record and sooner or later an album on the horizon"
Soundmates : What inspired your band name?
The Black Roses : There's a track Anthony liked called "The Black Roses" on the "Codeine Velvet Club" album, Slaves also have a song called Black Rose, which is a good song.
Soundmates : What artists influence your music the most?
The Black Roses : All the major guitar bands we grew up with : Arctic Monkeys, Queen of the Stone Age, The Libertines, The strokes, Oasis
Soundmates : How do you proceed when you start writing a new song?
The Black Roses : Usually Anthony would come up with a riff, melody and lyrics and we'd all build around that, everyone brings a personal touch. It can also be the other way round, someone else shares an idea on guitar, bass or drums and and Anthony would work his melody and lyrics around that. The fact that we're all included in the process of writing gives a lot of variety and colours to our sound.
Soundmates : What do you want people to remember from your music?
The Black Roses : We want people to feel emotion and enjoy themselves. If we succeed in that then perhaps they will remember our gigs over someone else's.
Soundmates : What advice would you give your fans who want to pursue a career in music based on your experience?
The Black Roses : Play your music loud and with passion. Also be active on social media, that's the way you get heard these days it seems.
Soundmates : Do you have plans of releasing a new album this year?
The Black Roses : Not an album just yet, we've got a single coming out in april and plan to record another one or an EP in the summer.
View the full blog here.